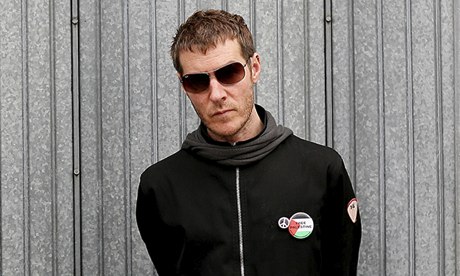 Photograph: Graeme Robertson for the Guardian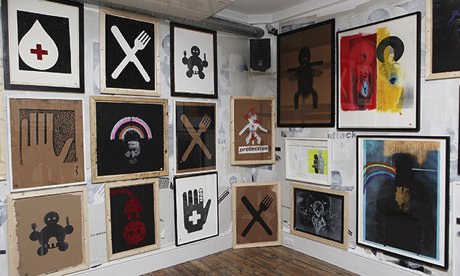 Photograph: Dave M Benett/Getty Images
People who are familiar with Massive Attack and the band's visual output will be well aware of the multiple talents of founding member Robert Del Naja, one of the creative hearts of the original Bristol Sound of the 80s and 90s.
His early creative endeavours started in 1983 with the hip-hop soundsystem crew The Wild Bunch, bringing together aspects of punk, reggae and R&B which later evolved into the musical flavours that launched Massive Attack and fellow Bristolians Tricky, Nellee Hooper (Soul II Soul), Portishead among others.
Graffiti was at the heart of the scene on the streets where this cultural vanguard spread it's roots on this side of the Atlantic along with London, Birmingham, Manchester etc. A huge inspiration for 3D was Jean-Michel Basquiat; the Afro-Puerto Rican kid from Brooklyn that almost single-handedly invented what we know now as street art. Writing in The Guardian he says:
We formed Massive Attack in 1988 and the influence of Basquiat was always there. He made the possibilities seem limitless. His style was not something you could copy, although you could try to steal a bit. I started to paint with brushes instead of aerosols, to work with more spontaneity and boldness. Basquiat's Warhol collaboration reopened my eyes to pop art and I moved away from graffiti as calligraphy, to see if I could paint in a more symbolic way. I started to use stencils as a method of printing Margaret Thatcher and Mike Tyson, and other media icons of the time. The repetition of cultural and industrial motifs determined the way I created record sleeves for the band.
Known as a creative political figurehead of sorts, for this generation's fight against the absurdities of war, human rights and the increasing loss of personal freedoms, 3D has hooked up with the likes of Radiohead's Thom Yorke & Damon Albarn of Blur to put in motion events and causes that help readdress the misbalanced parts of society, something which is always evident in his song writing and musical performances.
Yorke and Del Maja have just collaborated on the score to a documentary by Mark Donne called 'The UK Gold', about the UK tax system run from The City in London.
2013 saw Massive Attack collaborate with Adam Curtis the well respected documentary maker, for the Manchester International Festival which featured some awe inspiring on stage visuals, described by 3D himself  as "a collective hallucination".
Always up for a great collaboration his work in the past 10 years has featured on James Lavelle's project Unkle, on each of their past 4 albums.
Here's a recent video as part of his project Battle Box, bringing together music, art & limited edition vinyl releases in a wicked package. Vocals here courtesy of Elbow's front man and all round top bloke Guy Garvey.
I personally own an edition of his print entitled 'In Europe' but I dare not hang it on my walls in case my kids have nightmares, it's daaark…